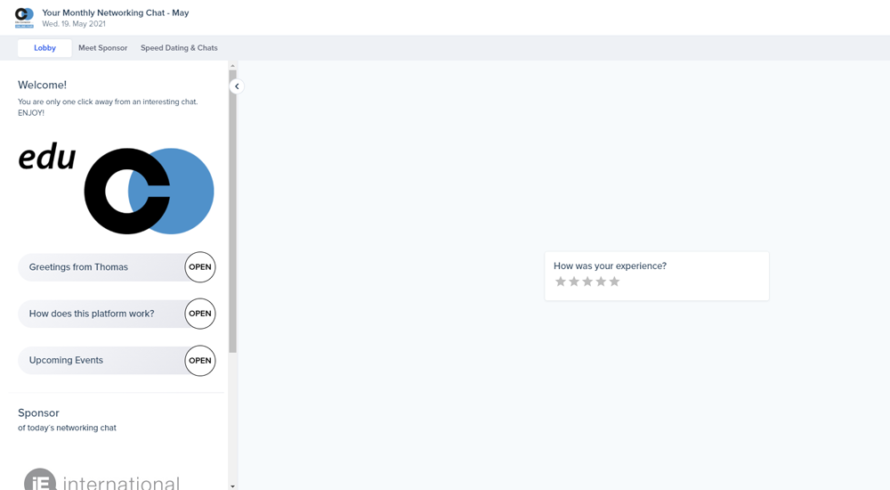 Lobby and stages
Exhibitors who wish to present themselves at the event book either a booth or a stage (or both). First, you will land on the start page, i.e. in the lobby. There you will find a welcome video and some general information. In the upper left corner you can navigate to the stages and listen to presentations.
Exhibitors and Breakout rooms
Next to the lobby and stages are the exhibitors. This is where the agencies that have booked a booth present themselves. Here, too, presentations can be held, but you can also talk and get to know each other. This is possible in smaller groups, i.e. with several people. The breakout rooms are ideal for private conversations. They are located next to the lobby and the stages after the exhibitors.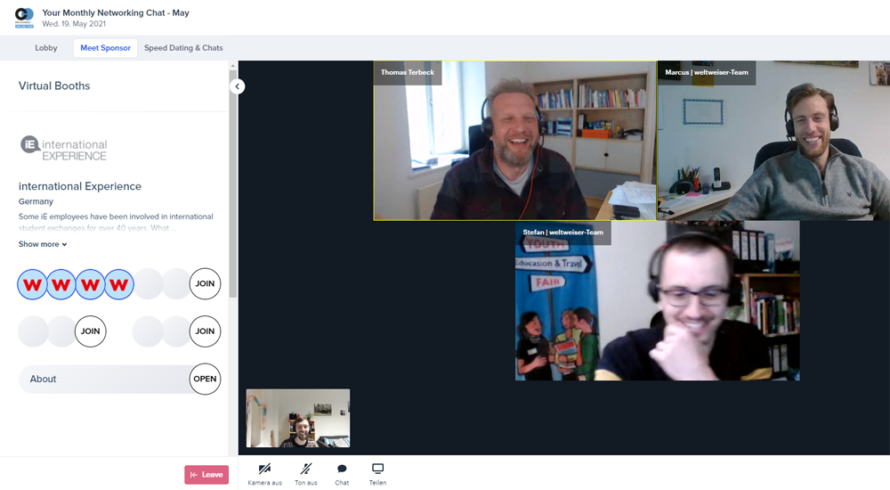 About the technology
Please register for the event that you want to participate. You need to sign up for free with your email adress to visit our events. Exhibitors please book your booths and visitors just sign up an connect. Before the event takes place please sign in and make yourself familiar with our platform so that in case of any problems you can still contact us to help you out.
Which browser is best to use? Can I also visit the event via cell phone or tablet?
Our platform is optimized for the Google Chrome browser. If you have this browser installed, you will get the best possible performance with it. The tool also works on mobile. For video chats, you have to turn your phone or tablet sideways. The software works better on a laptop or PC.
It is possible that your browser asks you for permission to access your microphone and camera the first time you click into a room. Please agree here, after that you can of course mute yourself or turn off the camera again.
How do I navigate my way around the event?
Simply switch between the areas with a mouse click and participate in video chats wherever you want. Even during a call, you can change the area and, for example, display information about an exhibitor.
How do I participate in a video chat?
Click on the "JOIN" icon and the virtual room opens. If you only want to listen in the virtual rooms at first, set your microphone to "mute" so as not to disturb ongoing conversations. You can leave a video chat either by switching to another room or by clicking the red "Leave the table" button below the navigation area.
How does the chat work?
There are 2 ways to use the chat. On the one hand, you will find a group chat in each virtual room, which is visible for the respective exhibitor, but also for everyone else. You will find it at the bottom of the screen as soon as you enter a room. Feel free to ask your questions here if you don't necessarily want to get in touch via camera and microphone.
There is also a private chat for direct exchange between 2 users. Here you can ask questions to the organizations that you don't want everyone to see or exchange contact details. You can write a private message by hovering over the profile picture of another person and then clicking on "message". An overview of the messages can be found in the upper right corner by clicking on the small icon with the speech bubble.